Poll: Future Threats of the Planet
What do you consider as an imminent threat for the future of our planet?
Ireland's first gay prime minister Leo Varadkar formally elected
The former GP, who came out as gay in 2015, is confirmed as taoiseach in Dáil ceremony in Dublin
The son of an Indian immigrant has made Irish history by becoming the country's youngest and first openly gay prime minister.
Leo Varadkar, 38, was formally elected taoiseach at a confirmation ceremony in the Dáil in Dublin after he won the Fine Gael party leadership earlier this month. Enda Kenny, who stepped down after six years, said his successor represented a "modest, diverse and inclusive Ireland".
The former GP, son of an Indian father and Irish mother, faces a number of challenges as he takes over the only EU country that has a land border with the UK as it prepares for Brexit. The country may experience an impact on prosperity and trade across the open border as it works towards restoring a power-sharing government in Northern Ireland.
Abortion will be another big issue for Varadkar, specifically demands for a referendum on the future of the eighth amendment of Ireland's constitution.
Pro-choice reformers say the country cannot liberalise its strict anti-abortion law until the eighth amendment, which gives equal citizenship to the foetus in the womb, is abolished, but a second referendum would be needed.
One of the first world leaders Varadkar planned to call after being appointed taoiseach was Theresa May, when he would convey the sympathy of the Irish people over the loss of life in the fire at Grenfell Tower in west London.
In his first speech as taoiseach, Varadkar told the Dáil: "The UK has been through some terrible tragedies over the past few weeks so we offer them our sympathy and solidarity."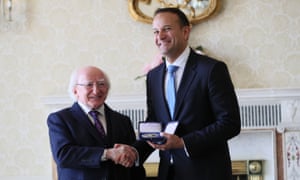 Leo Varadkar receives his seal of office from Ireland's president Michael D Higgins. Photograph: Brian Lawless/PA
In a tribute to Kenny, who led a coalition after losing Fine Gael's majority in the 2016 election, Varadkar said his decision to call the 2015 referendum on marriage equality had meant he could marry his partner. "His leadership enabled me to become an equal citizen only two years ago," he said.
He also quoted Seamus Heaney's The Republic of Conscience and vowed to approach the job as taoiseach with, in the late Nobel laureate's words, "profound humility and respect for what has gone before".
Varadkar won the vote by 57 votes to 50, with 47 abstaining. Micheál Martin, the leader of Fianna Fáil, the Dáil's second largest party, outlined why the party had had abstained, saying: "As we showed repeatedly last year, our preference in this Dáil was for Fine Gael to be removed from government. We continue to oppose core Fine Gael policies as outlined in its manifestos and its approach to government.
"However, because we wish our country well we also wish Deputy Varadkar well and we hope that he is successful in significantly changing the performance of the government he is a member of, and which he will now lead."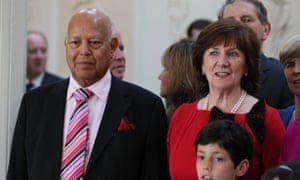 Leo Varadkar's parents Ashok and Miriam watch him receive his seal of office as taoiseach. Photograph: Brian Lawless/PA
Varadkar becomes the EU's youngest national leader, with Jüri Ratas, the 38-year-old Estonian prime minister, and Emmanuel Macron, 39, of France, joining him as a trio under 40.
Watching in the public gallery above the parliamentary debating chamber was Varadkar's mother, Miriam, who met her husband Ashok, from Mumbai, when they worked in an English hospital in the 1960s. His partner, Matthew Barrett, who is a doctor, was also watching.
There was a bizarre moment during the opposition speeches when the Sinn Féin president, Gerry Adams, remarked that he attended the same pilates course as Varadkar, which produced wry smiles from the new taoiseach and Kenny.
Varadkar later thanked Adams for revealing "their little secret". He suggested Adams was better at pilates because he might have been used to being in a "tight squeeze" – a reference to the time the Sinn Féin leader spent in prison as an internee.
Varadkar studied medicine at Trinity College Dublin and completed his six-year degree in April 2003. He was a member of Young Fine Gael on campus and was elected as a councillor with 5,000 first preference votes a year after he entered politics.
Varadkar is the first graduate of the college to be elected taoiseach.
On graduating from the School of Medicine he worked as a junior doctor for several years in St James's hospital, a Trinity teaching hospital and Connolly hospital in Dublin.
After the Dáil approved his nomination, Varadkar was taken by ministerial car to Phoenix Park in Dublin, the official residence of Ireland's president, Michael Higgins, who handed over the seal of approval that officially marks the Fine Gael chief as taoiseach of Ireland.